If you are searching for "SEO", "Local SEO", "Local SEO Company", "Local SEO Firm", "SEO Experts", or "SEO Services" in Phoenix, Scottsdale, Mesa, Chandler, Tempe, Surprise or anywhere else in Arizona, WebTechs.Net can help! Schedule your free SEO consultation by giving WebTechs.Net a call today at (480) 348-0550 Ext 105.
If you are searching for phrases like that you most likely came here for 1 of 4 reasons;

You're here because you need help with marketing your local business

You came here specifically looking for local SEO services or Google maps optimization service
You need a local SEO company in Scottsdale to help you get your local business found by other local consumers looking for your specific types of products and services.

You're a competitor and you came here to analyze our website to find out what is making us rank so high. (Good luck)
In either scenario, you found us because we freaking rock!! Just kidding… but no seriously, we really do! We actually planned on you finding us for that exact search term.
Best Local SEO Company In Phoenix, Scottsdale & Mesa!

We are one of the only BBB Accredited SEO Firm's in the Phoenix area
Positive reputation and reviews online (Google Reviews, Yelp Reviews, Facebook Reviews)

1 stop shop for web design, PPC services, hosting, email, content writing, blog posting and more

Can provide proof (SEO Case Studies) of our SEO services working

Our Local SEO services work for many different types of businesses, including Contractors, Designers, Lawyers, Automotive Shops, Home Improvement Contractors, Beauty industries, Medical facilities and more.

We only use white hat (safe) content writing and link building methods to ensure your website never gets penalized during a Google algorithm update
Our Local SEO Process

Research to find out what "keywords or phrases" your potential customers (in your area) are typing in to find local products and services like the ones you offer. At this point the keywords we select are only predicted keywords – meaning keywords that Google suggests are the most popular keywords that users are typing in when searching for specific products and services like the ones you offer)

Analyze your site to find new or existing opportunities to implement these predicted keywords into your posts/pages

Check competitors in your area to find out how much text they are using, how many backlinks they have and more to determine how much text and links it will take to make you show up above them all

Add relevant content, product/service descriptions, location modifiers and more to optimize your page or post to rank for the keywords we selected

Fetch the new page or post in Google so that they take notice to the changes right away

Wait for customers to start finding the page

Go back and re-analyze the actual keywords users are typing in, then re-optimize the page or post to be relevant for the actual keywords

Gain access to your business listing(s) and optimize them to include pictures, address, phone number, location and more
Our Local SEO Services Rock!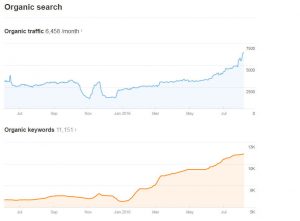 We "Rock" at researching and analyzing what our customers are searching for the most!
And, we can do that exact same thing for your business. We will find the most searched "keywords" in your specific industry/niche and optimize your website to rank for those "keywords" specifically.
What are keywords? Keywords are the words people are using when searching for products and services on a search engine like Google, Bing, Yahoo, Yandex, etc.
For Example, we noticed that our customers were searching for the keyword phrase, "Local SEO Scottsdale" or "Local SEO Phoenix" on Google's search engine. So, we built and optimized our webpage to rank for that "Keyword" specifically.

Once you find the keywords that are most important in your industry, the rest is all about providing the right types of SEO "signals" to Google to prove to them that you are the "best" result.
What Is Local SEO (Search Engine Optimization)

Local SEO or Local Search Engine Optimization is all about optimizing keywords on your website! Every day before today, you were typing in "keywords" without even knowing it. For example: I bet you do numerous searches every day for products and services on Google via your smartphone, tablet, pc, or laptop. For example, people in Scottsdale search for "fast food scottsdale", "hospital 85250", "Plumber scottsdale" etc. These are all examples of keywords.

When you are performing a Google search, whether it be by typing or voice search, you are in fact inputting "keywords". Google takes the keywords you input and provides you with a result. That result is usually exactly/pretty close to what you were looking for 99% of the time.
How does google provide me with almost perfect results every time? Well, Google has an extremely advanced algorithm that grades a number of factors to provide the best local result that they predict will be the best end-local-result for your specific search. Google separates these results into three sections.
How Local Results Are Shown On Google Search

Ad Section (Pay Per Click)
Google shows ads that local businesses pay for. Its a pay per click way to get your business shown on the front page of Google without paying for SEO services. Local SEO companies usually charge a percentage of your budget or one flat fee to manage your pay per click account with Google Adwords.

Google My Business Listing Section (Most Important)
The Google business listing section aka Google maps listing of search is by far the most important section you want to be in if you want to get more traffic, calls, clicks and sales of your products and services. When we accept your local SEO account, this is one of the places we attack the first. This listing is very powerful and can open up your business to a whole new crown of customers. This listing, coupled with filling your website with relevant content, backlinks, and other white hat SEO strategies, will send your business on an upward spiral to the front page of Google. Read our "Google Maps Marketing Guide" for more information about Google maps listings.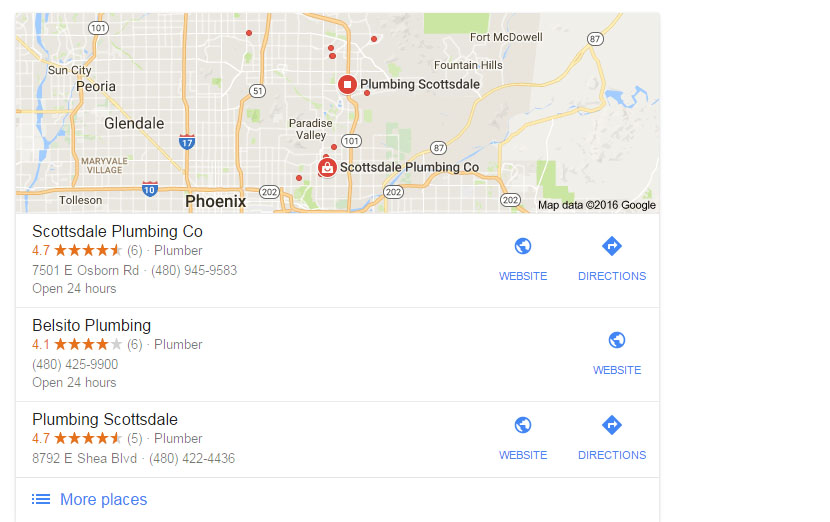 Organic Listings Section (2nd Chance)
The organic listing section is your 2nd chance or last chance to get clicked for your products and services. If the searcher has made it this far, that means they didn't find what they needed in the business listing section or that they needed further detail. You see below that these listings have titles and descriptions underneath them unlike the business listing section which was very brief. Most of the time, if the searcher made it this far into the search, they are looking for something very specific. You see in the title below that the plumber offers 24 hour plumbing services. That's a great keyword to list in your title if you are a plumber.

How Can My Business Be One Of These Local Listing Results?


Yes, your business can absolutely be one of these results as long as you can score highly with Google. Google gets these local results by "Grading" local services and product websites. When we say "grading" we really mean analyzing. Google analyzes your websites based on a "Million Factors" which we will list below in full. We're kidding! It's really not a million, that just sounded like the perfect thing to say to impress you. But, there really are a ton of factors that Google uses to grade your website. We can help implement these factors to make sure your website scores well with Google! 
How Does Google Grade My Local Business Website?

Google grades your website based on a number of factors. Here are some of the most important factors Google uses to grade or score your website.
How much content you have – Google wants to see a ton of great content on your pages. Don't have much to write about? That's where our expertise comes in. We write over 1,000,000 words per year! That is no lie; the number is probably a lot higher than that and still growing. We are expert content writers and know what it takes to solve user's search queries.
How Many links you have – Links are extremely important and are sometimes the only reason your competitor ranks over you. Don't have enough links or don't even know what they are? You definitely need our help and networking resources to take your link building game to the next level. One great way of getting more backlinks is by guest posting to other relevant websites. Here is a list of sites that accept guest posts https://www.izideo.com/blog/list-sites-accepts-guest-posting/. 
How easy your page is to read – Are you a college writer or a sophisticated author? Well, Google actually does like you! Believe it or not, Google wants to see 7th or 8th grade writing. People these days aren't all that bright and never everyone went to a 4-year university. Keep it simple… you know the rest!
How long users stay on your page once clicking on your site – Are potential customers leaving right away? That's really bad for your SEO and will almost surely leave your website at the bottom of the search barrel. That's called a bad CTR and you need a good one. We can help!
Page speed – How fast your website loads makes a difference on whether Google will want to show your website or not. Does your WordPress website load really slow? We can help speed it up and get you on our ultra-fast servers.
Mobile-friendliness – Is your business website mobile-friendly, if not, Google could be penalizing your website. Google wants to offer the best possible experience for your customers with professional mobile web design. Otherwise, they will not want to show your site on a mobile search. Don't care about mobile search? Well, according to recent statistics, mobile search is taking over desktop search 60% (mobile) to 40% (desktop).
Pictures – Google loves original pictures! Don't have any or don't know how to optimize or SEO pictures correctly? This could be holding your site back.
Videos – Scottsdale businesses that want to rank should be utilizing video now more than ever before. The internet is totally going digitally and the future of local SEO is actually "local Video SEO" Get on board with video now before your competitors do!
Page structure – The structure of your page actually makes a difference on your rank-ability. Are you mentioning the right keywords in the right places? You probably aren't and that means no ranks for you! Luckily, we can help you better structure your webpage for positive SEO friendliness.
Headings – Headings are one of the most important factors in local SEO marketing. Having the right headings with the right keywords will get you the right rankings in a heartbeat. Content
How many competitors' your local business has – Competitors play a huge role in the success of your local SEO strategy. If you are in a high competition field, it is going to take a lot longer and a lot more effort to gain strong rankings. What's high competition? High competition means there are 100 or 1000 other businesses in your area that all have listings, websites, and rankings that we have to overcome.
Your company geolocation – Your geolocation is your address/where you sit on a map of your area. IF your google my business listing is configured properly, your local customers will be able to find your business when looking for your specific type of products and services in their area. WE know how to set up your Google business listing properly to attract the widest radius of customers in your area.
Your proper use of keywords – If you aren't using keywords properly, you could be diluting your entire SEO strategy. We know when, where, and why to use keywords in certain places that Google is looking at the most.
Trust factors – Do you have links from credible sources? How much about your website can Google understand from just a few brief pages with little amounts of words on them? Are you highly reviewed? Accredited with the BBB? Google needs to trust you in order to rank you. We can help you build that trust!
Local Reviews – Local reviews are one of the most important factors of a safe, trustworthy local Seo marketing campaign. That's where you come in, we help get the customers but you have to get them to review you. We will give you all of the tools you need to email, text, or message your customer's easy instructions to give your business a Google review.
Citations – Are you on Yelp, Yellow pages, Facebook, etc.? Google wants to see that you are listed all over the place. We know where you need to be listed to show Google that they should take notice of your up and coming business.
Social media factors – Don't have your business on Facebook, Twitter, or Google Plus yet? Have those accounts but aren't utilizing them properly? That's a big local SEO no no! Google wants to see you interacting with your customers or at least sharing helpful information.

And more
We Are The "Possibility Thinkers" Since 1997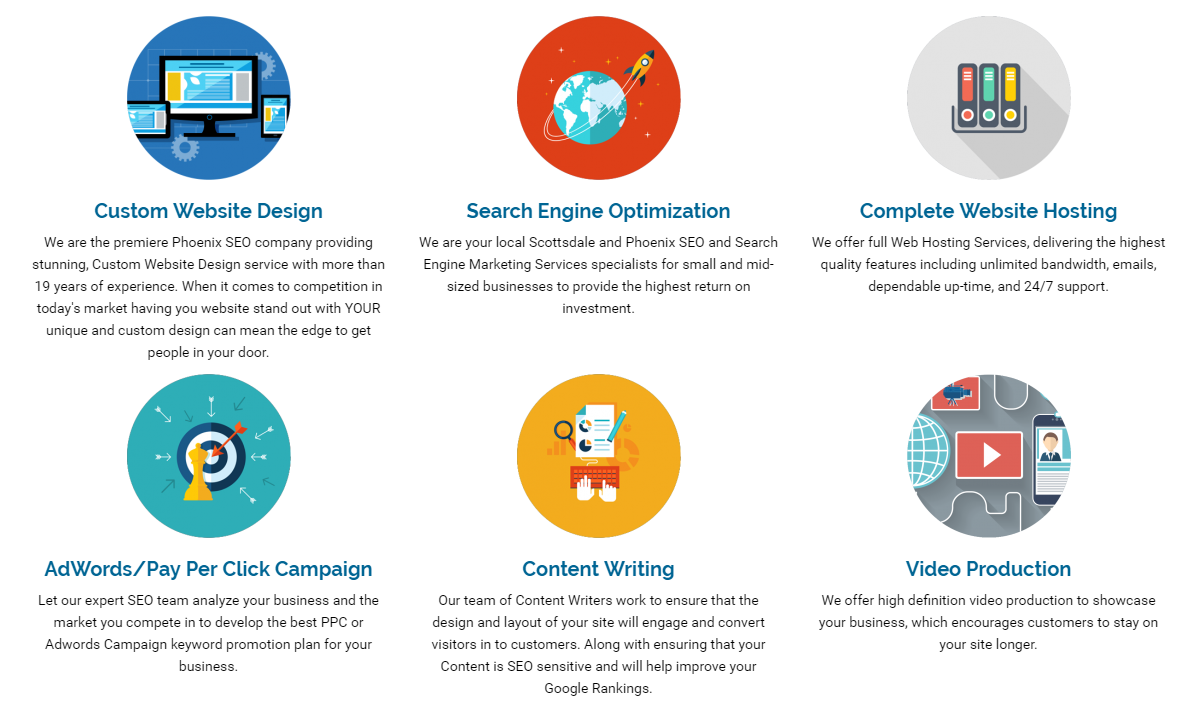 As you can see there are tons of factors that Google uses to grade your website. WE are experts at finding the possibilities and implementing the factors your local business website needs to gain stronger rankings. We want you to pass Google's grading process with flying colors so that Google sees you as an authority in your niche and ranks you accordingly with that finding.
We are in the business of "possibilities", that why they call us the "possibility thinkers"! We know your website has a chance to rank on Google just like 100's of our local SEO clients regardless of the niche or industry.
We know the ingredients that make up a trustworthy and authoritative website that Google will recommend again and again. Couple that with us helping you getting tons of positive reviews from clients, and your website will turn into an unstoppable force that gains #1 ranking after #1 ranking.
Local SEO Questions Answered

How long do I have to pay for local SEO services? Well, that depends on your competition and how many of them are also hiring local SEO companies. Google will reward the site that shows the most signals. Should your website be providing fewer signals than your competitor? They will outrank you every time.
You want to keep providing positive signals at all costs, especially if you are in a competitive field with high competition. What if my business has low competition? Well, we have packages for all levels of business and can provide local SEO services for all types of Scottsdale's small to large business types.
More and more businesses are learning about and paying for SEO, and it is becoming even harder to get your local business ranked highly. That's why we always stay in tune with the latest strategies from experts in the SEO industry such as Brian Dean and Ryan Stewart who really know SEO and are innovators with their "white hat" SEO techniques and ever-growing list of unique strategies.
Can't I just learn how to do SEO myself? Of course, you can just go do a google search for "local SEO strategies" and you will be presented with a nice guide on exactly what you need to do to get your local business ranked on Google. Also, I just provided 2 links above to some of the highest respected SEO professionals who actually teach SEO so feel free to give it a shot.
Why would you just give me that information so easily? Well, being 20+ years as a website development company, we know for a fact that it is going to take you at least that amount of time to gain the knowledge and experience our entire team gained over the past 20 years. Plus, we have gained a number of resources that set us apart from other "local SEO companies" or single man operations working out of their homes or basements (ok ok, or home office).
How Much Does Local SEO Cost in Scottsdale?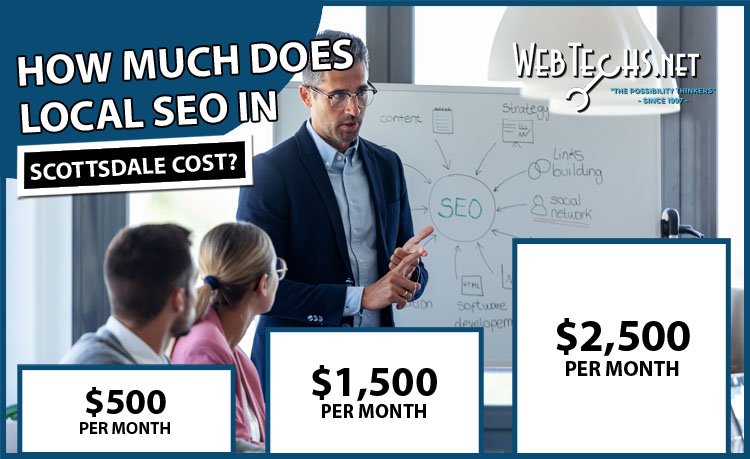 On average Scottsdale SEO costs about $1,500, with average prices ranging from $450 to $2,500 for the Phoenix Valley Area in 2020. *Disclaimer – this is not a quote. Contact WebTechs.Net today for an actual quote for your website. Read more about local SEO costs.
Come Sit Down With "THE" Local SEO Experts!

We work right here in the heart of Scottsdale in a nice office where we would love to meet you, and talk about what our local SEO experts can do for your business. Come sit down with our local SEO experts so they can inform you of exactly where your business is falling short and offer recommendations and packages that could help your business be more trustworthy and authoritative so that Google ranks you higher, people find your products and services, and your business grows. Check out our SEO case studies. 
Give us a Call @ (480) 348-0550 Ext 105, Email @ erick@webtechs.net or stop by for a visit @ 5900 N Granite Reef Rd Scottsdale Arizona 85250. 
Read Our Local SEO Reviews

★★★★★
"
"I've been working with Webtechs since January 2016 after purchasing this company from the previous owner who had been with them since 2007 and had a great web presence, very solid SEO and nothing but good to say about the Webtechs team. We also had them rebuild our website with a new design and a more mobile friendly hosting platform. After moving the business from Phoenix to Chandler we did have a small glitch that they warned us would happen but they came up with a clever work around and we're slowly but surely getting all our rankings back. Thanks Webtechs, you guys rock!"
"
★★★★★
"
"We have been with Webtech since 2000! Webtechs custom designed our pc website, our mobile website and they host and maintain our ongoing monthly SEO. Our organic business listings and rankings in Google, Bing & Yahoo have never been better! Thank you so much Joey and Brett and to the whole webtechs team for all of the wonderful things you do for us. They do an excellent job! Thank you."
"
★★★★★
"
"Fantastic customer service and quick turnaround times. These guys truly do the right thing when it comes to taking care of their customers; they are the kinds of SEO experts that have a knack for breaking down and explaining SEO to anyone and then parlaying that into great results."
"
★★★★★
"
"Our company has been using WebTechs since 2010. They do such a GREAT job!! I will never use anyone else. They handled building our website & site design as well as hosting. Whenever I need to get a new picture up or make any changes, it is done right away. They built our listing on Google and got us ranking #1. Their SEO optimization is great. We are very happy with the results. Everyone over there at WebTechs are great to work with. I get to work with Erick Carlson and couldn't be happier!! I highly recommend WebTechs!!"
"
★★★★★
"
"I started doing business with WebTechs 7 years ago when they built my website. The website is phenomenal and the customer service has been second to none. When I have questions, the are easy to contact and always have answers right away. I started doing SEO with them over two years ago and I'm so happy with the results! I am getting a lot of leads from Google now. I didn't understand SEO very well and they took their time to explain it to me in layman's terms. I highly recommend WebTechs for website building and SEO."
"
★★★★★
"
"Web Tech has done my web page for quite a few years and the amount of hits I get is amazing. They are in process of redoing the content and I feel the the price is reasonable."
"
★★★★★
"
"I want to thank Erick at WebTech for his continued excellent service and super-fast response. I gave him some plumbing and AC instructions for a web update mid-morning and by noon it was done. Excellent work and unbelievable turnaround time. WebTech's assistance on our web design is also giving us a higher ranking with excellent exposure as well as more relevance on Google. Thank you Erick and the WebTech team."
"
★★★★★
"
"WebTechs has been our website go to guys since 2008. We used them for our Web Site Design and SEO Optimization,they Host our website never have had any downtime. Our Website Video Production was done through WebTechs. We are kept up to date with all the new ways the internet is improving for advertising. Darren is great informing us as to what we might and might not need and it has never been a pressure sale with him. Steve and Adam also do great job we send a change in to our website it is usually up and running in 24 hours."
"
★★★★★
"
"Thanks WebTechs! You created my Google maps listing and helped improve my website for the best search engines. Also,you are always available to help anytime I need to make changes to my regular web or mobile sites or have any extra questions., I'm very pleased with your professionalism and customer service!"
"
★★★★★
"
"Desert Foothills Gardens Nursery has been a loyal customer of Web Techs since 2004. Darren has been our Rep for as long, and always keeps our site at top performance. The rest of the crew is also invaluable for optimum website design and SEO. We have recommended Web Techs to many over the past 10 years. Thanks to all of you!"
"
★★★★★
"
"WebTechs designed Impact Auto Body's website several years ago & we love the changes that they made. Our SEO ranking has greatly improved since using them also. I would highly recommend them for any type of business!"
"
Summary
Service Type
Provider Name
WebTechs.Net
,
5900 N. Granite Reef Rd.Suite 105
,
Scottsdale
,
AZ
-
85250
,
Telephone No.(480) 348-0550
Area
Phoenix, Scottsdale, Mesa
Description
"SEO", "Local SEO", "Local SEO Company", "Local SEO Firm", "SEO Experts", or "SEO Services" in Phoenix, Scottsdale, Mesa, Chandler, Tempe, Surprise or anywhere else in Arizona, WebTechs.Net can help!